Main content starts here, tab to start navigating
Menus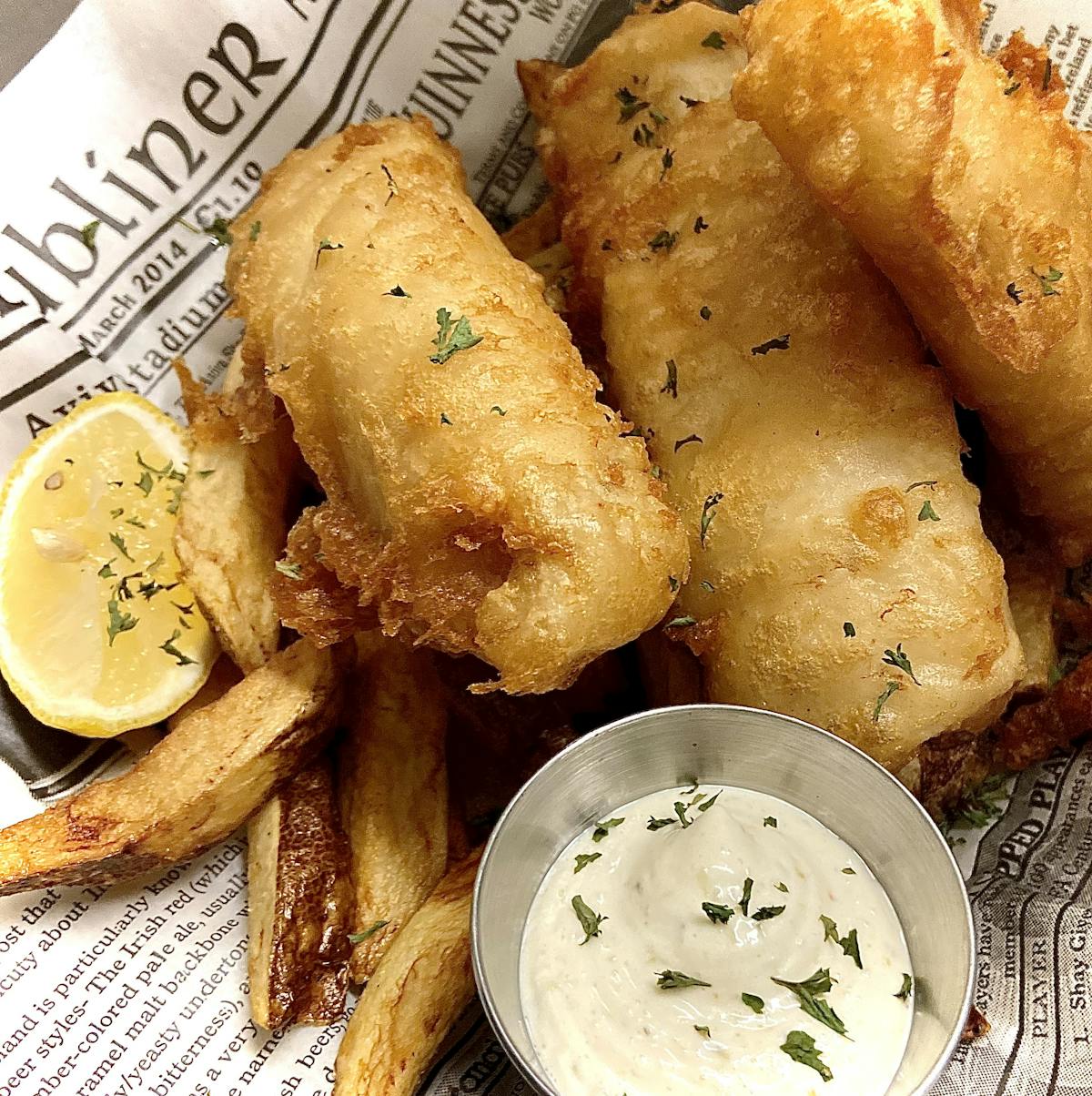 Slide 1 of 4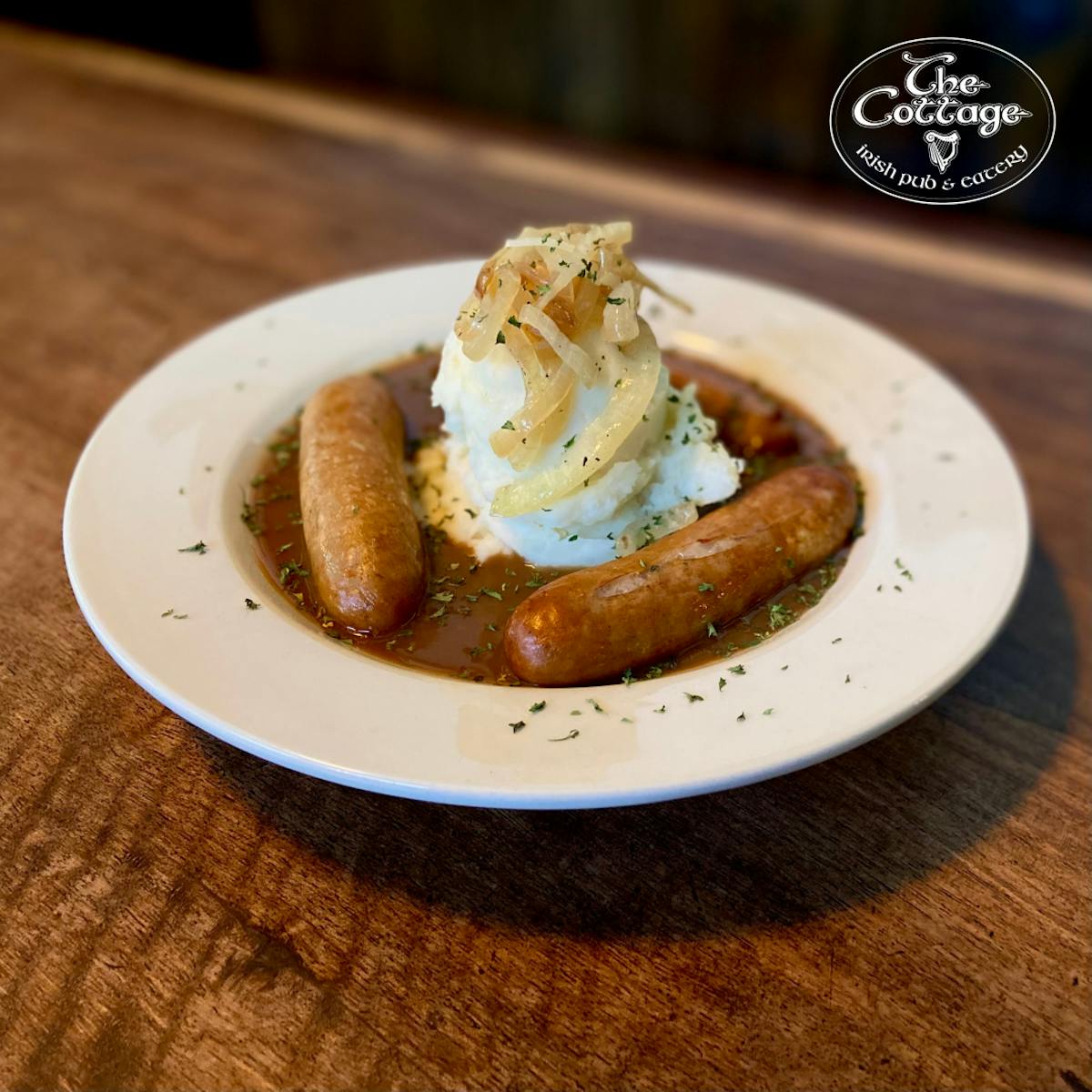 Slide 2 of 4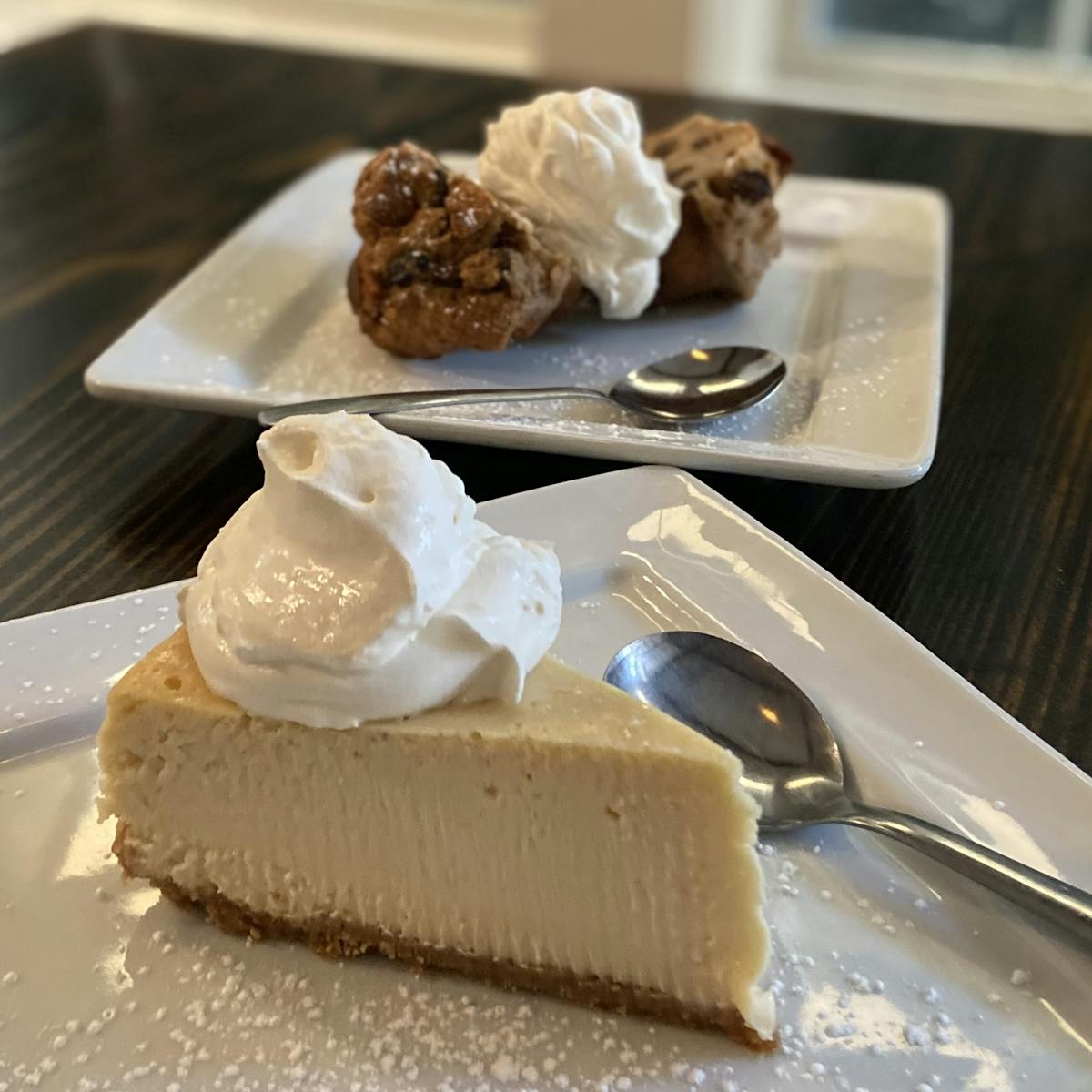 Slide 3 of 4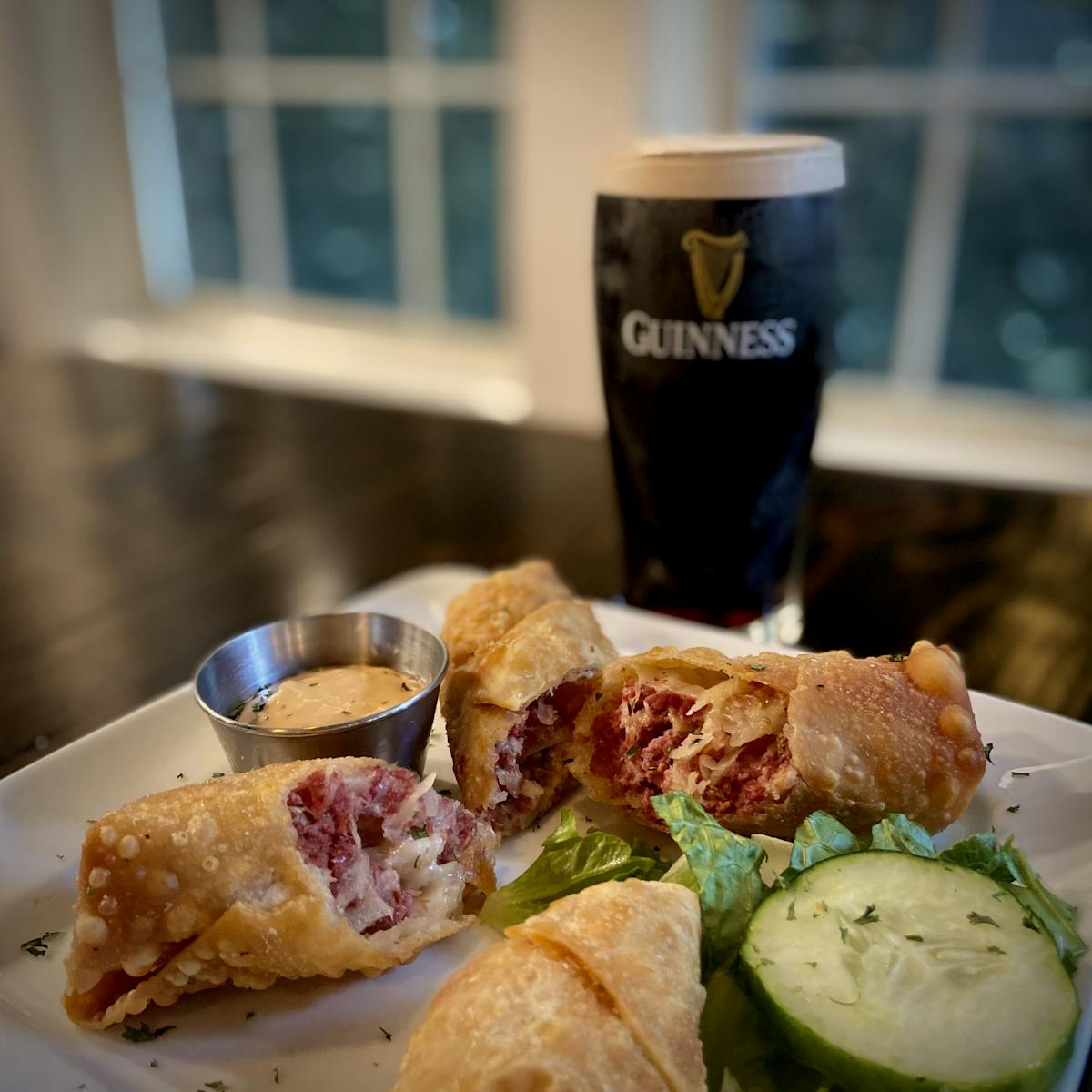 Slide 4 of 4
Lunch & Dinner
Entrees & Pub Favorites
Cottage Pie

A traditional recipe of Savory ground beef & vegetables cooked in a rich gravy, topped with toasted cheesy mashed potato and served with a side of our homemade Irish brown soda bread.

$16.95

Bangers & Mash

Juicy Irish pork sausages served with creamy mashed potato and a rich brown gravy topped with grilled onion.

$16.95

Guinness Beef Stew

Tender chunks of beef and vegetables simmered in a rich Guinness gravy and served with homemade Irish brown soda bread.

$16.95

Fish 'n Chips

Flaky cod coated in our special house-made beer batter and fried golden, served with house-cut fries, lemon, and tartar.

$16.95

Corned Beef & Cabbage Boxty

A traditional Irish potato pancake, served with tender home-cooked corned beef and cabbage, with a parsley cream sauce.

$16.95

Chicken Curry

Marinated diced chicken breast, onions & peppers simmered in our tangy & spicy coconut curry sauce, served with your choice of rice, fries or 1/2 rice, 1/2 fries.

$16.95

Steak 'n Fries

12oz Rib eye steak grilled and served with hand-cut fries.

$19.95

Cauliflower Steak

Marinated & grilled cauliflower steak served with mashed potato & vegetables of the day.

$14.95

Chicken Pot Pie

Tender chunks of chicken breast with carrots, bell peppers, mushrooms, celery, onions, leeks and green beans in a rich cream sauce topped with a puff pastry crust.

$16.95

Grilled Atlantic Salmon

Grilled Salmon with a coconut cream sauce served with cauliflower rice and broccoli.

$16.95
Pub Specials
Served until 3pm daily
Full Irish Breakfast

Irish pork sausages, Irish (rasher) bacon, black & white pudding, eggs, grilled mushrooms, grilled tomato & baked beans served with your choice of toast or Irish brown soda bread.

$18.95

Irish Breakfast Sandwich

Fried egg, Irish pork sausage, Irish (rasher) bacon served on a toasted brioche bun with a side of home-cut fries.

$13.95

Half Irish Breakfast

Two eggs with your choice of two Irish pork sausages or two back bacon rashers ( or one of each ) served with Irish brown bread or toast

$12.95

Add baked beans or black or white pudding $1.50
Kids
$7.95 All served with fries or a salad
Kids Burger

$7.95

Mac'n Cheese

$7.95

Chicken Nuggets

$7.95

Grilled Cheese

$7.95

Ice Cream Sundae

$4
Sides
$4.95
Coleslaw

Potato Salad

Fries

Mashed Potato

Veggie of The Day

Mac 'n Cheese

Baked Beans

Rice

Side Salad (Caesar or House)

Irish Brown Bread
Desserts
$6.95
Baileys Cheesecake

$6.95

Irish Whiskey Bread Pudding

$6.95
Starters
Chicken Wings

(bone-in & fried crispy) tossed in your choice of buffalo (mild, med, or hot) BBQ or honey sriracha or lemon pepper, served with a side of blue cheese or ranch dressing.

$13.95

Add celery & carrots $1

Cauliflower Wings

(dipped & fried crispy in house beer batter) tossed in buffalo (mild, med, or hot) BBQ or honey sriracha or lemon pepper, served with a side of blue cheese or ranch dressing.

$10.95

add celery & carrots $1

Mozzarella Sticks

Breaded, fried & served with marinara dipping sauce.

$10.95

Chips & Curry

Hand-cut fries served with our spicy, tangy, curry sauce.

$7.95

Chicken Tenders

Hand-breaded and fried golden, served with your choice of dipping sauce.

$12.95

Buffalo style $0.50

Spinach & Artichoke Dip

Baby spinach, artichoke hearts, cheddar, Monterey jack & parmesan cheese dip, served with fresh fried tortilla chips.

$11.95

Reuben Egg Rolls

Crispy egg rolls stuffed with home-cooked corned beef, swiss cheese, and sauerkraut filling, served with 1000 island dipping sauce.

$11.95

Smoked Salmon

Smoked salmon with lettuce, tomato, red onion, capers & lemon, served with our homemade Irish brown soda bread.

$12.95

Potato Skins

Fried potato shells filled with melted cheddar, crispy bacon, and green onion, served with sour cream.

$11.95

Cottage Pie Skins

Fried potato shells filled with our cottage pie filling of savory beef and vegetables, topped with mashed potato and melted cheese.

$12.95

Irish Sausage Rolls

Irish pork sausage meat wrapped and baked in flaky puff pastry, served with wholegrain mustard.

$11.95
Soup & Salads
Potato & Leek Soup

Creamy potato and leek soup served with our homemade Irish brown soda bread.

$5.95

Garden Salad

Mixed greens, cucumber, tomato, red onion, red bell pepper, carrot, cheese & croutons.

full $9.95

half $4.95

add fried or grilled chicken $6

add salmon $7

Caesar Salad

Crunchy romaine spears, shaved parmesan & croutons drizzled with creamy Caesar dressing.

full $9.95

half $4.95

add fried or grilled chicken $6

add salmon $7

Chef Salad

Chopped romaine lettuce topped with grilled chicken, bacon, hard-boiled egg, red onion, tomato, cucumber, and blue cheese crumbles.

$15.95

Spinach Salad

Baby Spinach leaves topped with bacon, blue cheese crumbles, diced tomato, red onion served with Pink Lemonade dressing.

$11.95

add fried or grilled chicken $6

add salmon $7

Dressings

Ranch, Blue Cheese, Honey Mustard, Balsamic, Italian, 1000 Island, Pink Lemonade
Sandwiches
Cottage Burger

Angus ground beef patty cooked your way, served with lettuce, tomato, onion & pickles.

$12.95

add cheese, bacon, grilled mushrooms, or grilled onion (ea) $1

add fried egg $1.50

add jalapeño $0.50

Corned Beef Reuben

Home-cooked corned beef, swiss cheese, sauerkraut & 1000 island, served on toasted rye.

$13.95

Irish Sausage Sandwich

Irish pork sausages are served on a toasted baguette topped with grilled onions and a side of gravy.

$12.95

add cheese or grilled mushrooms $1

Crunchy Cod Sandwich

Flaky cod dipped in our housemade beer batter and fried golden, served with lettuce, red onion, tomato, and slaw with a side of lemon & tartar sauce.

$12.95

Steak Sandwich

Grilled marinated steak, sliced with lettuce, tomato and topped with grilled onions, and served on a toasted baguette with creamy horseradish dressing.

$14.95

add cheese or grilled mushrooms $1

Chicken Caesar Wrap

Your choice of grilled or fried chicken, romaine lettuce, parmesan, and creamy Caesar dressing wrapped in a flour tortilla.

$11.95

Chicken Sandwich

Your choice of grilled, fried, or buffalo chicken with lettuce, tomato & red onion with spicy mayo.

$13.95

Veggie Panini

Cheddar cheese, Roma tomatoes, grilled onions, spinach and grilled mushrooms served on a toasted panini.

$10.95

Add Grilled chicken $4

Fish Tacos

Crispy fried cod served with house slaw & chipotle ranch dressing.

$12.95
All sandwiches are served with your choice of fries, side salad, mashed potato, coleslaw, potato salad or soup
Cocktails


Frozen Irish Coffee

Creamy soft serve Irish Coffee, made with Tullamore D.E.W , Dairy & Coffee liqueur

$10

Power-Hour Tea

Power's Irish Whiskey, Black Tea Simple Syrup, Lemon Juice

$10

Raspberry Clover Club

Irish Gunpowder Gun, Raspberries, Lemon Juice, Simple Syrup, Egg Whites

$11

Cucumber Mule

Tito's Vodka, Cucumber, Lime Juice & Ginger Beer

$11

Cran Me Baby

El Sativo Blanco Tequila, Lemon Juice, Simple Syrup, Egg Whites & Cranberry Preserve

$12

Irish Old Fashioned

2 Gingers Irish Whiskey, Sugar, Bitters

$9

Old Rogue

Irish Whiskey, Elderflower, lemon Juice & Ginger Beer

$9

Blackberry Bramble

Gin, Blackberry Simple, Lemon juice & Soda Water

$9

Spiked Hot Chocolate

Candy Cane infused Jameson Whiskey, topped with hot chocolate & Marshmallows

$10

Raisin Rum Milk Punch

Raisin Infused Rum, Cinnamon / Vanilla Simple Syrup & Milk

$11

Daiquiri

Rum, Sugar & Lime Juice

$9

Gold Rush

Scotch, Lemon Juice & Honey

$9

Black Velvet Cocktail

Champagne & Guinness

$9

Spicey Watermelon Margarita

Tequila, Ghost Chili, Orange Liqueur, Lime Juice & Watermelon Syrup

$9

Lavender Lassie

Dingle Gin, Creme de Violette, Ginger Liqueur, Lemon juice, Simple Syrup & ginger beer

El Burro

1800 Reposado Tequila, Pineapple juice, Absinthe, Lime juice, Simple syrup and ginger beer

Rose of Tralee

Stole Cucumber Vodka, Lemon juice, Lillet Rosé, Simple Syrup & egg white

Bananarama

White Rum, Banana Liqueur, CoCo creme, Lime juice, Lemonade & Pineapple juice

Gold Digger

Bourbon, Ancho Reyes, Chamomile Tea simple & Lemon juice

Barrel Aged Boulevardier

Heavens Door Bourbon, Campari & Sweet Vermouth aged in Oak Barrels
Cocktails
$6
Irish Old Fashioned

Irish whiskey, sugar, bitters.

$6

Moscow Mule

Vodka, lime juice & ginger beer.

$6

Margarita

Tequila, lime juice, simple syrup & triple sec.

$6

Daiquiri

Rum, lime juice, sugar.

$6

Blackberry Bramble

Gin, blackberry syrup, lemon juice, soda.

$6

Well Drinks

$5
House Red & White Wine
$6
20% Off All Draft & Bottled Beer
1/2 Price Apps
Cauliflower Wings

Dipped and fried crispy in our house-made beer batter tossed with your choice of buffalo, honey sriracha, BBQ, or lemon pepper with a side of blue cheese or ranch.

Spinach & Artichoke Dip

Spinach, artichoke hearts & 3 cheese dip, served with tortilla chips.

Mozzarella Sticks

Breaded & fried, served with marinara.

Potato Skins

Crispy potato shells filled with melted cheese, bacon & green onion.

Chips & Curry

Hand cut fries served with our spicy tangy curry sauce.